So I know I'm breaking the rules, but I didn't want to wait until the morning to announce the winner to my giveaway!
a Rafflecopter giveaway
Kaitlyn from Smiles and Sunshine is the winner!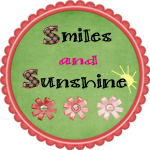 Congrats Kaitlyn! I've sent you your gift card code!
I want to thank everyone who entered. It was exciting, I felt like a game show host!
I've have been busy, busy, busy getting things ready for school. So I will back later in the week to share some more things with you all.