I am so excited to be announcing my second giveaway. I am in complete awe that I made it to 100 followers already. Thank you all for reading and commenting and sharing your amazing ideas with me. I am feel so grateful that I took the plunge and decided to start blogging this summer. So enough with the mushy stuff! Here's what you can win!
There will be two prizes. Here's the first one.
You get two choose 3 items from my TPT store! Here's the link to look around!
AND you get a $10 target gift card! AND it's going to be this one because I think it's cute! I know you could all use 10 more dollar spot items. I know I could.
Second Prize!
Some lovely bloggers have offered some prizes as well!
$10 dollars to Kimberly at the learning tree's TPT store
$10 dollars to Jackie at 3rd Grade's a Charm's TPT store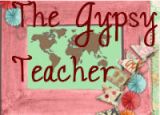 $5 dollars to Allie at the Gypsy Teacher's TPT store
And finally
3 items of your choice from Brandi at Success in Second grade's TPT store!
Awesome prizes right? I love being able to choose what I want! So follow them and their stores and check back in a week because I will announce the winner!