Hello everyone!
I got a sudden bursts of inspiration last night and worked hard to create this birthday pack. And I want to thank Amanda at The Teaching Thief for being apart of that, as I took inspiration for part of it from the scrap paper
birthday bookmarks
she made.
I am sad to say that I didn't do much for birthdays last year. This year I want to be prepared!
So here it is and I am very proud of it. I can't wait to use it in my classroom this year! It includes book marks, bulletin board decor, stickers, certificates, and no homework passes.
Take a look!
all the graphics are courtesy of KPM doodles
I am going to be giving away 3(!) of these birthday packs. Fill out the rafflecopter form below. Good
luck!
Before you go I wanted to let you know that I am guest blogging over at Adventures of a Third Grade Teacher. I'm blogging about Character Building read alouds I will be starting the year with!
Click the button to see my post!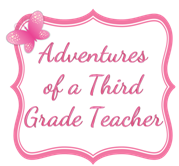 oh and as a reminder my shop is still having a sale until midnight tonight!
Check it out!